How to use our strategies from Best-Binary-Options-Strategy.com?
15-30 Minute Strategy, Simple and Profitable
This strategy is useful for beginners as well as more experienced traders. Beginners can run the strategy automatically until they understand it better and then apply some of the more complex principles.
Start off by adding:
Two exponential moving averages: on the

periods 50 and 200

.  You can also add on 21 but not essential at this point.
Add the

Stochastic Oscillator (5,3,3)

with levels of 80 and 20.
Set the RSI value at 4 and add to levels 25 and 75.
After this you can add the indicator FiboPiv. This indicator draws your support and resistance lines on the chart with a high degree of accuracy.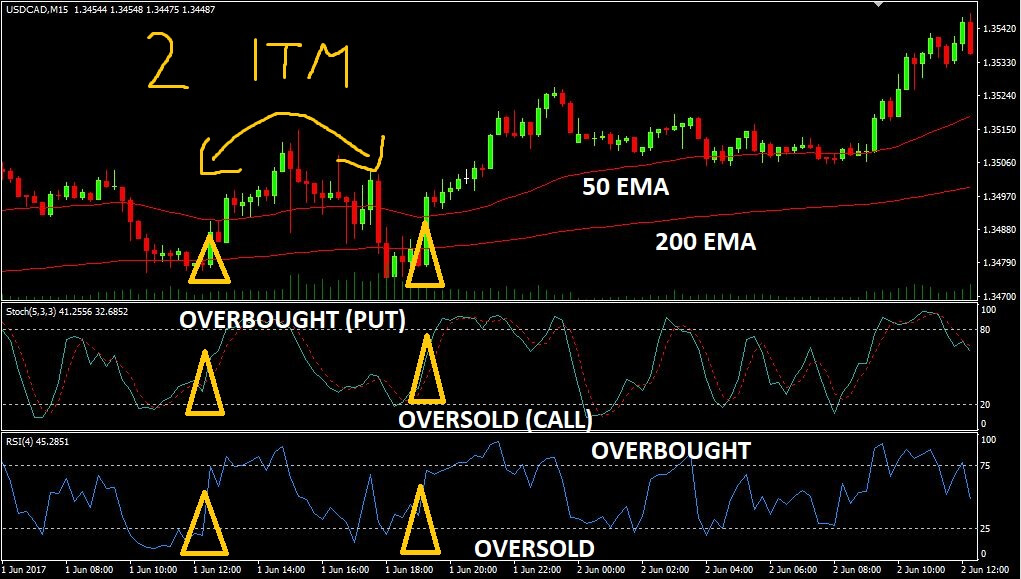 For beginners it is wise not to trade too near the lines until they understand price action. Amateurs would also need to understand the pivot-line to trade near S/R lines. Price is often undecided when it is around the pivot line and identifying a trend becomes difficult.  It takes time to understand how price reactions change near major S/R lines but once you do they become advantageous in your trading.
How does it work?
Use your moving averages to help identify a trend. Go to the 15 minute chart and check the candlesticks. Are they above the 200 EMA and 50 EMA or possibly below both the 200 EMA and 50 EMA? To ensure the trend is true and not about to change direction suddenly, make sure you know what the previous highs and lows were. The stochastic oscillator can help you identify these by showing the oversold and overbought levels. If the price is stepping down and shows under both the 50 and 200 EMA, look for lower highs and lower lows. If the price is buys stepping up it would be creating higher lows and higher highs above the 50 and 200 EMA. The point is to find these little steps, which are small retracements within the current trend.
To open a call option, candlesticks need to be above the 50 and 200 EMA and show as oversold on the RSI and Stochastic, enter at higher lows.
To open a put option, candlesticks need to be under the 50 and 200 EMA and show as overbought on the RSI and Stochastic, enter at lower highs.
Once you have confirmed the trend action, as a newcomer, you will be trading mechanically. You would see the candles form the lower high and see that the RSI and Stochastic are close to overbought levels. Let the bullish 15 minute candle complete and ensure the retracement is over. Double check that the bullish move is done by looking at the 5 minute chart and see if the next candle is bearish.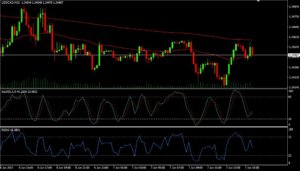 Once you are more experienced and understand candlesticks and price action and are able to draw resistance and support lines and have a good idea of the volatility of the market you can change your approach using this strategy. You would not wait for the bearish candle to form but would look at the 1 minute chart and draw your S/R lines. Makes sure the M5 and M15 are still overbought though. You would use price action to determine when to trade and would not have to wait for candles to complete at 5 minutes in the direction of trade you want to trade in. Price did not continue an upward climb shows the retracement had ended so you would have a better entry. Use the same option when working on call options, just work on higher lows and higher highs.
Why to use this strategy or not
This strategy is developed to work in most market conditions but will not work in every market condition. It is best for you to wait until all the current market conditions are showing the results you need before trading. This can sometimes take days but it is best to wait to avoid bad trades. It can be a little difficult for beginners to find the better entries as well. This strategy does give enough confirmations to make you feel more secure in trades. This strategy is fairly accurate and it helps you learn price action skills which are endlessly beneficial for trading.


(
+4649
rating,
6 090
votes)

Loading...
Recommended broker for this strategy
| Broker | Min. deposit | Rating | Trade now! |
| --- | --- | --- | --- |
| | 200 USD | 9.8/10 | |