How to use our strategies from Best-Binary-Options-Strategy.com?
Byron Simple Trading Strategy - 1HR EXP
It is very uncommon to find a binary option trading strategy for options with 1 hour expiration time. When we stumble upon one, it is worth to try it at least on a demo account. This strategy has some nice track record, just take a look at Meta Trader history window. We use H1 timeframe and always trade until the end of current hour or for 60 minutes. Inspiration for this strategy comes from Binary Options Edge website.
How to setup the chart
Timeframe: H1
Template: Byron Simple Trading Strategy (Download strategy)
How does this strategy work
We wait for the arrow which signalizes crossing of the ADX indicator to appear and afterwards we confirm the rebound by a drawn circle that signalizes ideal conditions to open the trade. Therefore, we trade as soon as the circle appears.
When to enter the trade
Buying a CALL option:
Green circle appears
Stochastic indicator points up
One of the previous candles had arrow below it
Buying a PUT option:
Red circle appears
Stochastic indicator points down
One of the previous candles had arrow above it
What does this strategy look like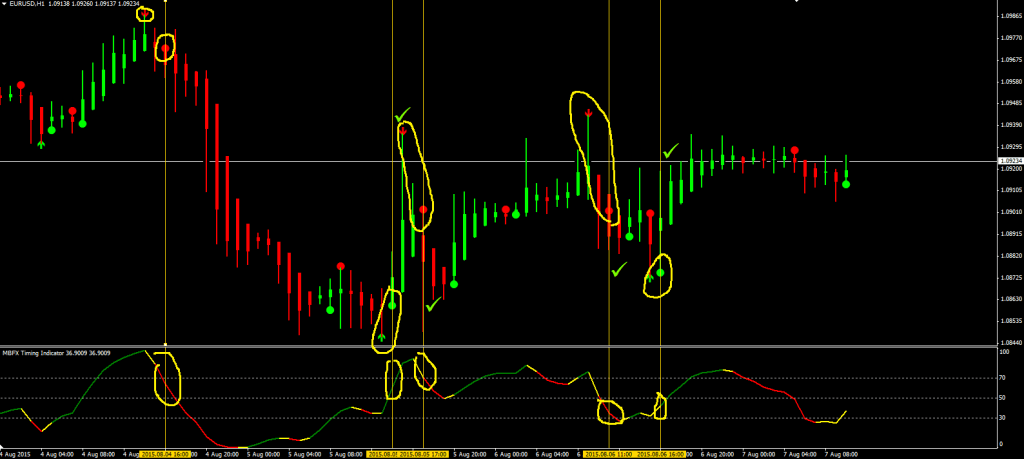 Recommended broker for this strategy
| Broker | Min. deposit | Rating | Trade now! |
| --- | --- | --- | --- |
| | 200 USD | 9.8/10 | |