How to use our strategies from Best-Binary-Options-Strategy.com?
Binary Options Strategy Tester
When it comes to using an indicator for binary options trading, it is always recommended to analyse it properly. And why not, when it can have all the chances to fail? For example, when you buy something essential and costly you will try to evaluate it first before you buy, right? Then why not do the same in the case of the indicators, after all, you will be risking real money?
Does Strategy Tester Really Work?
One of the best ways to test an indicator or a strategy is by paper trading in which you need to scroll back the chart while seeking signals in accordance with the indicator strategy you are willing to evaluate. But then this type of method is sometimes subjective as you get to see the entire chart the possibility of getting influenced is more. This article takes to explaining the way of evaluating strategies like you are trading in real time.
Using the Strategy Tester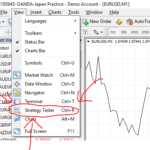 Available in Meta Trader 4 platform, to use the Tester you require to open a chart of the currency pair to want to conduct the test on. Once you have done that you will need to attach a default Expert Advisors to it that is again available on the MT4 platform. Usually, known as MACD sample, these default EAs need to be dragged and dropped on the chart I.  With that a small window is likely to open, which will let you select the settings for the Expert Advisor. However, it is not an important job, so you can skip that.
Next, what you should do is click on the 'Strategy Tester' button that should be near the navigator. But then, there are some platforms that do not have it. In that case, you just need to press F6 and the window will appear. And then you will get to see many settings that you should adjust. You might get the following tabs;
EA: As for this part that is the Expert Advisor you have sent needs no modifications.
Symbols: You can choose a symbol to select your desirable currency pair. But if you have already opened a chart of your likeable pair, then you need not do anything.
Method: You should use 'Every tick' setting as then it shows the most accurate market conditions. It's however slower than other methods.
Use Date: For this, you should select the period that you wish to set.
Now, while you move to the middle column, you will get to see three things;
Period: Here, you must select the time frame (for binary trading it is recommended to use M1 or M5 or M15, depending on your trading strategy.)
Spread: This, you can leave unchanged, since it's not necessary for binary trading
Optimization: This one must be left unchanged

When you move to the right column you don't have to change much except clicking the 'Start' tab. Once you do that, a fresh chart will come up. Now, you will find the prices oscillating in a normal market condition. If you think that you have gone back in the time and so you have the control of the market in your hand, then that isn't the case. But then, you have the leverage to adjust the speed of the movement as well as hit 'pause' in order to get better peanuts. Last but not the least; you will have to add indicators to it, provided you have one.
Analysing the Usability of the Strategy Tester
Although the entire process seems to be very complicating, you cannot deny the benefits attached. By using this you can get close to real market trading. It is therefore undoubtedly one of the finest methods to train yourself before investing in binary options trading. Here you can see what a test will show you.